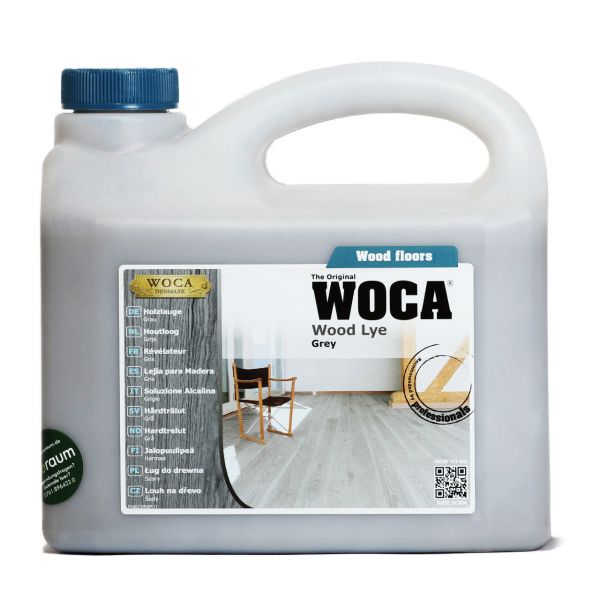 Aufhellende Vorbehandlung für alle Holzarten. Schützt vor Vergilbung und sorgt für einen gräulichen Effekt.
---
verleiht dem Holz eine gräuliche Optik 
schützt vor Vergilben
für alle Holzarten geeignet
---
Inhalt:
2.5 Liter (17,58 € * / 1 Liter)
inkl. MwSt. zzgl. Versandkosten
Lieferzeit aktuell 2-6 Werktage
Zubehör direkt mitbestellen
Produktinformationen zu "Holzlauge grau 2,5 Liter"
Allgemeine Informationen
Wood Lye
Holzarten: Für alle Holzarten geeignet
Verbrauch: 1 Liter = 10 m²
Mit der WOCA Holzlauge grau erhält Holz im Innenbereich eine dauerhaft helle Oberfläche mit gräulicher Färbung. Mit ihr können Sie abgehobelte bzw. abgeschliffene Weichholz- und Hartholzoberflächen sowie Fußböden, Treppen, Möbel oder auch Paneele behandeln.
Durch die Anwendung wird das Holz deutlich aufgehellt und ein Vergilben des Holzes wird verhindert. Bevor Sie größere Flächen mit Holzlauge grau behandeln, empfehlen wir Ihnen, immer eine kleine Fläche zur Probe anzulegen. Hierzu ist die Holzlauge grau auch in einer Probegröße (100 ml) erhältlich.
Das Unternehmen WOCA zeichnet sich durch ein hohes Umweltbewusstsein aus. Weitere Informationen hierzu sind in unserem Info- und Service-Bereich zu finden (Thema: Ökologie).
Farbton
Für einen gräulichen Farbton wird Holzlauge grau verwendet. Verwenden Sie die Holzlauge weiß, wenn Sie das Holz aufhellen möchten.
Verarbeitung / Auftrag
Vor der großflächigen Behandlung empfehlen wir, die Lauge zunächst auf einer kleinen Testfläche anzuwenden.

Falls das Holz noch unbehandelt ist, sollte dieses zunächst fein geschliffen werden.


Die Oberfläche muss sauber, fettfrei und völlig trocken sein.


Den Kanister gründlich schütteln und den gesamten Inhalt anschließend in einen Kunststoffeimer umgießen.


Die Lauge während der Arbeit regelmäßig umrühren.


Die Lauge gleichmäßig in Richtung der Holzmaserung unverdünnt auftragen - am Besten mit einem laugenbeständigen Pinsel oder einem Laugenroller. Senkrechte Flächen von oben nach unten behandeln.


Anschließend das Holz mit dem WOCA Intensivreiniger reinigen oder mit einem grünen Polierpad leicht abschleifen. Dies ist nach etwa einer Stunde Trocknungszeit möglich.


Das Holz mindestens 8 Stunden bei ca. 20°C trocknen lassen.

Vor der Weiterbehandlung muss das Holz vollständig trocken sein.

Für einen Schutz vor Verschmutzung muss die Oberfläche nachbehandelt werden. Dafür empfehlen wir unser WOCA Meister Bodenöl bzw. die WOCA Colouröle. Alternativ können Sie für die Nachbehandlung auch die WOCA Basisseife oder die WOCA Holzbodenseife verwenden.
Werkzeug & Zubehör
Zum Auftragen der Lauge einen Nylonpinsel, laugenbeständigen Fellwischer oder einen Laugenroller verwenden. Zur Auffrischung und Reinigung des Bodens sollte der Intensivreiniger verwendet werden, zur Nachbehandlung die WOCA Holzbodenseife.
Ergiebigkeit / Verbrauch
Für 1 m² benötigen Sie etwa 80-100 ml Lauge. Mit 2,5 Litern Holzlauge können also 20-25 m² Holz behandelt werden.
Technische Details
| | |
| --- | --- |
| pH: | 8-10 |
| Deklaration: | Wasser, Natriumhydroxid, Pigmente. <5% nichtionische Tenside. <1% Konservierungsmittel. |
| Form: | Flüssig |
| Dichte: | 1 |
| Ergiebigkeit: | 8-10 m²/l |
| Farben: | Weiß und grau |
| Geruch: | Schwach |
| Werkzeug: | Nylonpinsel, Plastikkanister und Rührstab. |
| Reinigung von Werkzeug: | Mit Wasser |
| Entsorgung: | Leergebinde und Produktreste sind gemäß den regionalen Vorschriften zu entsorgen. |
| Gebinde: | 2,5 Liter |
| PR Nr.: | 2009077 |
| Aufbewahrung | Das Produkt muss sicher gelagert werden, darf nicht in die Hände von Kindern gelangen. Von Wärmequellen (z.B. Sonnenlicht) fernhalten. Vor Frost schützen. Unter Verschluss und für Kinder unzugänglich aufbewahren. |
Kundenbewertungen
Von:
Anonym
Am:
21.08.2020
Bewertung eines Trusted-Shops-Nutzers
toller Effekt sieht wunderschön aus und das Holz ist geschützt
Von:
Anonym
Am:
26.12.2019
Bewertung eines Trusted-Shops-Nutzers
super Produkt, mit dem Ergebnis sehr zufrieden
Von:
Anonym
Am:
26.12.2019
Bewertung eines Trusted-Shops-Nutzers
super Produkt, mit dem Ergebnis sehr zufrieden
Von:
Andy G.
Am:
21.02.2019
Bewertung eines Trusted-Shops-Nutzers
Good product, but I thought it would be a little darker, more color instead of the smoked affect
Sehr schönes Ergebnis - aber Nachölen ist Pflicht! (ich spreche aus Erfahrung...)
Bewertung schreiben
Bewertung verbergen
Fragen und Antworten zu "Holzlauge grau 2,5 Liter"
Frage:
Kann diese Holzlauge auch im Außenbereich eingesetzt werden? Im Konkreten Fall an einer sägerauen Fassade aus Lärchenholz?
Antwort:
Das Produkt ist für den Innenbereich entwickelt und empfohlen. Wir wissen allerdings aus Kundenberichten, dass die Lauge auch im AUßenbereich erfolgreich eingesetzt wird. Dies geschieht dann allerdings auf eigene Verantwortung. Wir empfehelen eine Musterfläche anzulegen. Zu diesem Zweck können SIe eine Probe von der Holzlauge bestellen.
Frage:
Ist diese Holzlauge auch für Küchenarbeitsplatten geeignet?
Frage:
Muss ich vor dem Ölen mit ExtraGrau eine Lauge auftragen?
Antwort:
Nein, eine (graue) Lauge vorab ist optional und kann den Effekt deutlich verstärken.
Frage stellen
Stellen Sie Ihre Frage zum Produkt "Holzlauge grau 2,5 Liter".
Weiterführende Links
Gewicht / Stück:

2.7 kg

EAN:

5708055003131